[helpie_notices group_id='72'/]
Oriental Medicine
What is Oriental Medicine?
Oriental Medicine is the oldest, professional, continually practiced, literate medicine in the world. This medical system's written literature stretches back almost 2500 years. Currently ¼ of the world's population uses this system. This is a complete system that does not need supplementation. Oriental Medicine was created by some of the best educated and brightest scholars in Chinese history. These scholars have recorded their theories and clinical experiences from generation to generation in literally thousands of books. It is estimated that almost 40,000 books on Chinese medicine existed before 1900.
Acupuncture is the placing of needles in specific spots on the body to affect Qi. Qi can be blocked in areas of the body and there can also be excessive amounts of Qi in other areas. The needles help the body to move Qi so that there is even distribution of Qi throughout the body.
What is Qi and how does it move? What affects Qi?
Qi (pronounced "chee") is any energy or any force that moves, has direction and can consolidate into physical substance.
Qi flows throughout the body, animating and protecting it from illness and disease. The quality, quantity, direction of flow, and balance of Qi influence your health. Qi is directly influenced through acupuncture, herbal medicine, diet, martial arts such as taiiji and qi gong, and life style choices.
Qi can disperse and condensate, the same way that water has many forms. Water can become ice and take a solid form and it can become steam and take a gaseous form. Qi is the same way; it can condense into physical form and it can disperse into energy. Just like water, Qi is in a constant state of flux. Depending on the conditions that surround it, depends on what state you find it in. Even ice in its solid state is melting and becoming water again and steam collects, condenses, and becomes water as soon as it hits another surface. Qi is not static, keeping a particular form absolutely.
Orientals understood that qi flows through Channels, sometimes called Meridians, in the body. These Channels are analogous to the pipes in a water system or the empty river bed that allows water to flow through. They are the empty space that have the potential for energy to flow through them.
The Qi flows in the Channels in a predictable manner, like currents in a waterway. Where a river flows, it transports life-giving water and nutrients that nourish the land. In the case of the Qi, the Channels bring energy and life giving force to your body. There are 14 main Channels that traverse through out the body and are connected to the organs, muscle groups, nerves, and glands. Each Channel has acupuncture points, sites where the Qi can be influenced.
Where Qi goes, blood goes. Qi is the motive force for the blood to move.
When Qi flows freely throughout the body there are no health issues, no pain. You enjoy good physical, mental and emotional well-being. Any obstruction of Qi in the body is like a dam, backing up the flow of Qi in one area and restricting it in others. Blockages prevent the distribution of the nourishment (the blood) that the body requires to function in optimal balance.
What is the significance of looking at my tongue?
This is another diagnostic method that Oriental Medicine uses to determine diagnosis. The practitioner will look at the tongue and use information such as the color and texture to confirm or disprove the hypothesis they have developed from the pulses and questions. The tongue is the only internal organ that can be viewed. This can give the practitioner a glimpse into what is happening with the other internal organs.
How often can I receive Acupuncture?
Acupuncture is very gentle. You can receive acupuncture treatments daily. For chronic and long lasting conditions, more frequent visits increase effectiveness. At the beginning of treatment the practitioner will recommend coming once a week. However, if you are able, more times in a week will produce quicker results. Once you have achieved your goals with acupuncture, maintaining what you have accomplished is also recommended. For health maintenance many people come once every two weeks or once a month. Ultimately, you need to decide what level of care you are willing to commit to.
Acupuncture is very safe when practiced by a trained, qualified practitioner. When practiced correctly, there are no side effects and no practitioner caused disease. If a patient reports side effects from a Oriental Medical treatment, the practitioner modifies the treatment until there is healing without side effects. This medicine is about restoring balance to the entire person, not just a piece or part. Side effects mean that there is an imbalance which needs to be corrected. The practitioner works until these imbalances are gone. This also might mean getting other practitioners on board as well to address things that are outside the scope of Oriental Medicine.
What should I expect during my initial visit?
The initial visit takes roughly an hour and a half. We start with paperwork: initial information, informed consent, and HIPPA signature sheet. Then the practitioner will check your tongue and feel your pulse on both wrists. Both of these observations give indications towards the Chinese diagnosis. Then the practitioner will ask the "Song of the 10 Questions." He will have a conversation with you in order to glean information about your condition, further leading to the Chinese Diagnosis. After that he will give the first treatment, based on what he has found. Typically he needles in the arms and legs, so wearing clothing that is easy to pull up and expose the skin is advised. Sometimes it is necessary to needle on the back or torso; we have medical gowns for such purposes.
What is my Oriental Medical diagnosis and what does it mean?
Oriental Medicine has its own system of personalized pattern discrimination, just like Western medicine does. These patterns are professionally recognized groups of signs and symptoms. These signs and symptoms are collected by the practitioner and lead to a diagnosis. The practitioner will feel the pulses, look at the tongue, and ask the "Song of the 10 Questions" to group the symptoms into patterns. Your diagnosis might be Liver Qi Stagnation or Spleen Qi Deficiency depending on the set of symptoms that you presented at the time of diagnosis. These tell the practitioner how to proceed with treatment: what acupuncture points would be best for you as well as what herbs would work the best for your condition. Your diagnosis might change from visit to visit. As the Qi is moved in the body, it adjusts and other things present themselves.
What do I do before and after my treatment?
Prior to a session it is suggested that you don't consume any food and just water for 2 hours. However, this is not always possible. Let your practitioner know if you consumed anything in the two hours before being treated. After a session you may feel extremely relaxed. Some people need to take a moment to "land on the earth" before they drive. You will also want to take note of any changes that happen the two days following the session. You will want to let your practitioner know the following week what has occurred.
The needles are extremely small. 18 acupuncture needles can fit into the tip of a hypodermic needle, typically the kind used to draw blood from a patient. Our practitioner uses a gentle Japanese style insertion technique, which causes very little pain, if at all. It depends on how sensitive the patient is. Some people report that they can not even feel the needles being inserted; others say that there is a small pinch.
How deep do the Acupuncture needles go?
The needles are inserted from an 1/8 inch to a ½ inch deep. Our practitioner uses a Japanese style technique which does not use deep needle insertion. Some Chinese styles uses much deeper insertion. In most cases deep insertion is not necessary.
Is Acupuncture safe for children?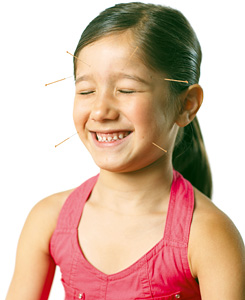 Very! Acupuncture is about cultivating Qi. Acupuncture can restore balance and flow of Qi if any blockages are found without the use of heavy prescription medications. And the practitioner does not even need to use needles! Children are very responsive to acupressure, herbs, massage, and cupping, none of which are invasive. Acupuncture is a safe, natural, drug free supplement to use with your children for their continued health and well-being.
What are the educational & training standards for Acupuncture Physicians and how do they differ from Oriental Medical Practitioners?
Medical doctors are able to become licensed acupuncturists by taking 250 hours of classes on point location, meridians, and needle insertion. They are only licensed to perform acupuncture. They approach acupuncture from a point perspective: your Western medical diagnosis says you have diabetes and these particular points are good for diabetes. Oriental Medical Practitioners have to have a previous bachelor's degree and then complete a four year masters including three years of clinical work. They are licensed for acupuncture as well as herbal prescription. They approach acupuncture from the Oriental Medical diagnosis: by using the diagnostic means, they come up with their diagnosis, which then leads them to treatment options. Acupuncture points that an Oriental Medical Practitioner might use will probably be vastly different than that of a Western medical practitioner. The goal of the Oriental Medical Practitioner is to treat the underlying condition, not the stated condition. And from an Eastern perspective there could be several reasons that a person ends up with a symptom such as diabetes: kidney yin deficiency or dry-heat in stomach and intestines.
Cupping therapy is used to mobilize blood flow to create healing. In Oriental medicine it is typically used to dispel stagnation in a particular area of the body.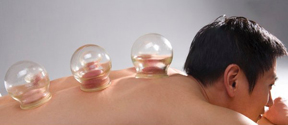 The practitioner takes a small rounded glass cup, wipes the inside of the glass with alcohol, and then lights the alcohol on fire. Once the flame is extinguished (it usually only burns for a second) the cup is then quickly placed over an area of the skin, typically the back. The air inside the cup expands when it is heated. When the air begins to cool, it contracts and draws the skin slightly into the cup, creating suction. Drawing up the skin is believed to open up the skin's pores, which helps to stimulate the flow of blood, balances and realigns the flow of qi, breaks up obstructions, and creates an avenue for toxins to be drawn out of the body. This invigorates the blood, bringing new blood to the area and dispels the stagnation. Stagnation in an area can create sensations of pain. Cupping can be administered with stationary cups or with moving cups, depending on the situation and the location of the stagnation.
With moving cupping, oil is applied to the skin and the cup is slid along the surface of the skin without detaching suction. The sensation is very similar to deep tissue massage. Cupping can sometimes leave bruising or marks on the skin, depending on how long the cups are left on the skin and how deep the suction achieved. In "wet" cupping, the skin is punctured before treatment. When the cup is applied and the skin is drawn up, a small amount of blood may flow from the puncture site, which is believed to help the body remove harmful substances and toxins.
Gua Sha is an East Asian healing technique. Gua means to 'scrape or rub.' Sha is a 'reddish, elevated, millet-like skin rash' (aka petechiae). Sha is the term used to describe Blood stasis in the subcutaneous tissue before and after it is raised as petechiae. Gua Sha is one technique that intentionally raises Sha rash or petechiae. Gua Sha can be used whenever a patient has pain, whether associated with an acute or chronic disorder. There may be aching, tenderness and/or a knotty feeling in the muscles. Palpation reveals Sha when normal finger pressure on a patient's skin causes blanching that is slow to fade. In addition to resolving musculo skeletal pain, Gua Sha is used in alleviating symptoms of the common cold and flu, as well as any chronic disorder involving pain, which is considered in Oriental medicine to be the congestion of Qi and Blood.
Sha is raised primarily at the Yang surface of the body: the back, neck, shoulders, buttocks, and limbs. The area to be Gua Sha-ed is lubricated with oil. The skin is then rubbed with a round-edged instrument in downward strokes. One area is stroked until the petechiae that surface are completely raised. If there is no Blood stasis the petechiae will not form and the skin will only turn pink.
A ceramic Chinese soup spoon is what our practitioner uses for the instrument. The color of the Sha is both diagnostic and prognostic. Very light colored Sha can indicate deficiency of Blood. If the Sha is fresh red, it indicates recent penetration. If the Sha is purple or black, the Blood stasis is long-standing. If brown, the Blood may be dry. Dark red Sha can indicate heat. The Sha should fade in 2-4 days. If it is slower to fade, indicating poor Blood circulation, the practitioner must ascertain whether it is deficiency of Blood, Qi or Yang, a deeper stagnation, or organ deficiency at the root. In most cases the patient feels an immediate shift in their condition, particularly in their pain or sense of constraint. Gua Sha moves stuck Qi and Blood, releases the exterior by mimicking sweating, and moves fluids. Gua Sha promotes circulation and is a valuable treatment for both external and internal pain.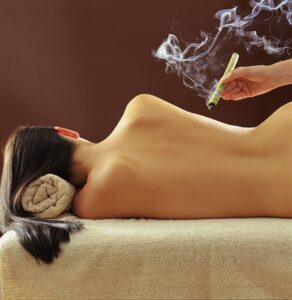 Moxabustion or moxa burning employs lighted herbal cones or sticks that are inserted on top of acupuncture needles (or held over specific channel points) to infuse heat and Qi into specific body areas for tonification.  Moxa is also used to expel Cold in order to disperse Blood stagnation or is used to help regulate menstrual cycles when trying to conceive.
Will my insurance cover Acupuncture?
This particular office does not send insurance forms at this time. However, some forms of insurance do cover acupuncture. We are more than happy to supply you the forms and codes to submit to your insurance company if you wish to be reimbursed for treatments. We do accept the health reimbursement account cards, however. They can be run just like a credit card.
What are the laws governing Acupuncture in Pennsylvania?
These are the Pennsylvania laws governing the use of acupuncture and oriental medicine. (Source)
§ 18.11. Definitions.
The following words and terms, when used in this subchapter, have the following meanings, unless the context clearly indicates otherwise:
Acupuncture—
(i)   The stimulation of certain points on or near the surface of the body by the insertion of needles to prevent or alleviate the perception of pain or to normalize physiological functions, including pain control, for the treatment of certain diseases or dysfunctions of the body.
(ii)   The term also includes the use of supplemental techniques.
Acupuncture educational program—Training and instruction in acupuncture or supplemental acupuncture techniques offered by a degree-granting institution authorized by the Department of Education that leads to a master's degree, master's level certificate or diploma or first professional degree, that meets the relevant and appropriate requirements of 22 Pa. Code (relating to education) and 24 Pa.C.S. Chapter 65 (relating to private colleges, universities and seminaries) and that meets or exceeds the standards required for acupuncture or Oriental medicine programs established by an accrediting agency recognized by the United States Department of Education.
Acupuncture examination—An examination offered or recognized by the Board to test whether an individual has accumulated sufficient academic knowledge with respect to the practice of acupuncture and herbal therapy to qualify for the privilege of practicing as an acupuncturist or as a practitioner of Oriental medicine. The Board recognizes the NCCAOM component examinations in acupuncture and sterilization procedures as the examination for registration as an acupuncturist and the NCCAOM examination component in Chinese herbology as the examination for registration as a practitioner of Oriental medicine.
Acupuncture medical program—An academic or clinical program of study in acupuncture which has been given category I continuing medical education credit by an institution accredited or recognized by the Accreditation Council on Continuing Medical Education to conduct category I continuing medical education courses.
Acupuncturist—An individual registered to practice acupuncture by the Board.
Chinese herbology—The study of the use of herbs in the Oriental medicine tradition.
Herbal therapy—The application of Chinese herbology to the treatment of acupuncture patients.
NCCAOM—The National Certification Commission for Acupuncture and Oriental Medicine.
Practitioner of Oriental medicine—An acupuncturist who is registered by the Board to use herbal therapy.
Supplemental techniques—The use of traditional and modern Oriental therapeutics, heat therapy, moxibustion, electrical and low level laser stimulation, acupressure and other forms of massage, herbal therapy and counseling that includes the therapeutic use of foods and supplements and lifestyle modifications.
Authority
The provisions of this §  18.11 amended under section 3 of the Acupuncture Registration Act (63 P. S. §  1803); and section 8 of the Medical Practice Act of 1985 (63 P. S. §  422.8).
Source
 The provisions of this §  18.11 adopted January 2, 1987, effective immediately and applies retroactively to December 31, 1986, 17 Pa.B. 24; amended May 19, 1989, effective May 20, 1989, 19 Pa.B. 2161; amended April 13, 2007, effective April 14, 2007, 37 Pa.B. 1644. Immediately preceding text appears at serial pages (222904) to (222905).
§ 18.15a. Scope of practice of acupuncturists and practitioners of Oriental medicine.
(a)  An acupuncturist may practice acupuncture and use supplemental techniques but may not use herbal therapy.
(b)  A practitioner of Oriental medicine may practice acupuncture and use supplemental techniques including herbal therapy.
(c)  This subsection does not limit the scope of practice of a medical doctor who is registered as an acupuncturist.
Authority
The provisions of this §  18.15a issued under section 3 of the Acupuncture Registration Act (63 P. S. §  1803).
Source
The provisions of this §  18.15a adopted April 13, 2007, effective April 14, 2007, 37 Pa.B. 1644.