by Armand Crolli
Did you ever have a therapy or modality have to be constantly repeated because the results didn't hold for long periods of time?  Did you ever wonder why that was, when it was clearly working for others?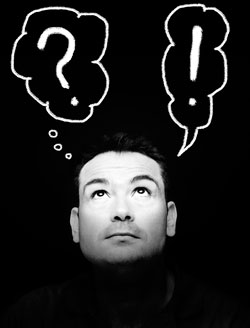 Part of the reason for this is derived from belief.  A belief, as we define it here, is anything that defines the ego or is part of the primal programming we all share.  Our beliefs are made from an amalgamation of our culture, social status, religious, epigenetics, family values, and primal concerns.    
This is a pretty vague idea.  It is easiest to find it in our everyday speech:
"It's the right thing to do."




"I can't – "

"I am suppose to do -"

"I'm afraid to -"

"I fear that it won't work."

"Those kinds of people always do that."

"Why can't he/she see that about themselves?"
These are all examples of belief patterns that we can hold.  When you have doubt about whether a modality will work or not, that is a limiting belief.  But what actually happens in treatment?  Let's use an infomercial as an example.
After hearing the sales pitch, you believe in the item; you then convince yourself through some rationalization that you need the product and that the price they are asking is worth your belief in the item.  You then purchase the product, which is followed by an emotional sense of pleasure via a dopamine reward reaction.  
So what has actually happened?
The sales pitch harkened to our beliefs.  Our mental mind then kicked in to rationalize and justify why we should pay attention to this pitch; it found the stated case to line up and support our belief system.  The mental mind is very interested in the status quo and avoiding unresolved conflicts with our beliefs.  An emotional pattern was then the down-stream occurrence from the intellectualizations and rationalizations.  It is guaranteed that an emotional response will occur in proportion to the strength of the belief system.  And this emotional response evokes a physical response, the release of dopamine, in the body.
What is interesting is that we don't even need to know what these core beliefs are; the ego will actually deflect attempts in uncovering these, even to the point of pain. One doesn't need to tear down all the elements that make us who we are; but we need to expand our strict definitions if we want to accept new ideas.  
What are the implications for treatment?  If you are trying a new modality, such as acupuncture or bioenergetic testing, you need to be able to accept the new ideas being presented and the new ways of looking at your body.  If you are not able to believe in the core premise that the body operates as a whole, the treatments will not work for you.  If you are not able to buy into the belief that the energetics of the body matter, these modalities will fail to make for you the life altering changes that someone who does believe will experience.  
This kind of emotional blocking does not just happen with a treatment modality; it can happen in any area of our life.  What areas of your life are being held back by limiting beliefs?  Can you liberate them to create the life you want?